Lara Keel Lobbyist Update: Texas Transparency Now
The following text is from an email sent out by Susan Combs. Lara Keel is posting this text as a public service for all who seek political transparency in Texas and support Ms. Combs efforts toward this cause.

We had an exciting day in Austin recently, as Republican women from across Texas gathered at the State Capitol for the Texas Federation of Republican Women Legislative Days.
I was honored to start the day with these wonderful women at their Transparency in Government Taxation rally, along with my friends: Senator Williams and Representatives Callegari and Ratliff.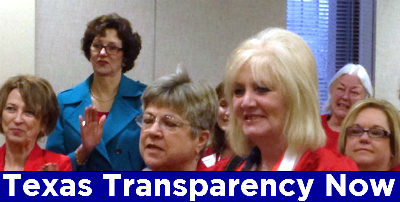 It was also great to see all of the women in red – the enthusiasm and the signs were wonderful. They captured the importance of transparency, but the excitement about this issue was proof of just how many folks there are dedicated to making sure government is telling the truth to taxpayers.
I also got a chance to talk at the TFRW Legislative Luncheon. I was so proud to see how many smart and dedicated women we have here in Texas – and thankful for their hard work in support of Republicans and the values we hold dear.
As always, there's more to be done. I'd love to have you help spread the word and show your support by signing our petition for Texas Transparency Now and sharing it with everyone you know who cares about honesty.
Thank you,
Susan